Hauling my mortal coil out of bed on Sunday morning at 4:30 in the AM made me think of the recurring Saturday Night Live sketch with Tim Meadows: Perspectives.
My girlfriend Colleen and I managed to make it out of the house at . We made a quick stop at the gas station for gas in the tank and air in the tires. This gem happened:
On our way to vacation in Maine. I get back in the car at the gas station. @Afterglwcos says: "YOU BOYS LIKE MEX-EE-CO?!" 💚

— Nicki Monogamous (@doublecompile) October 9, 2016
We made a second quick stop at Dunkin' Donuts for road breakfast. Then, we hopped on I-695. Then, we hopped on I-83. Then, we hopped on I-81. Then, we hopped on I-84. (It started raining somewhere north of the New York border.) Then, we hopped on I-90. Then, we hopped on I-290. Then, we hopped on I-495.
At this point, it was , and we were damn hungry. We stopped at a Panera Bread in Westford, MA. Two half-sandwiches and crocks of soup later, we fought our way out of that place and hopped back on the highway.
Finally, we hopped on I-95, the magical thruway that would take us all the way to Medway, Maine.
It wasn't long before we ran into the New Hampshire State Liquor Store immediately off of I-95, enormous and barn-like. We retrieved the usual suspects: a handle of Jameson, a bottle of Maker's Mark, a bottle of champagne, and a pair of champagne flutes.
Just after Portland, Maine, we started to get the You've Been In The Car Too Long Loopiness. Let it be known that no moose were spotted at the moose crossing signs.
At long last, at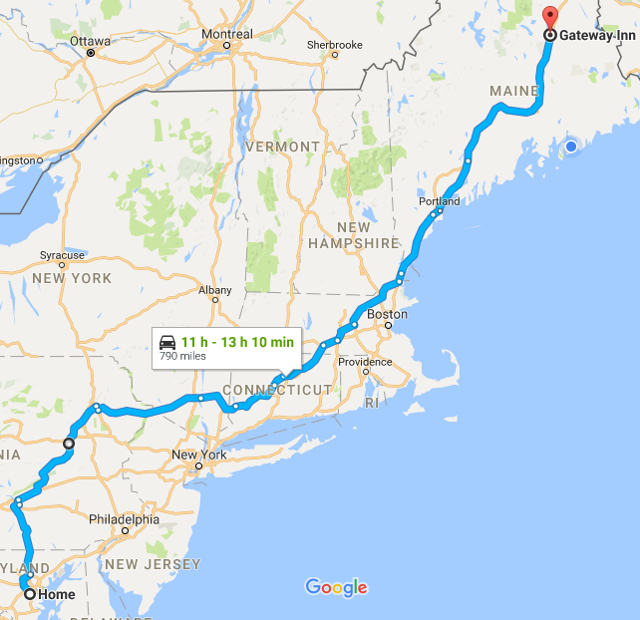 Fulfilling my declaration made that morning that when we arrived, I want steak, I want eggs, I want a cup of coffee, we went to The Country Diner, which serves breakfast all day, and I damn well got my wish.
When we returned to the room, Colleen and I enjoyed some whiskey served in the clear, disposable plastic cups provided by the motel, and we promptly passed out before
On to day two.